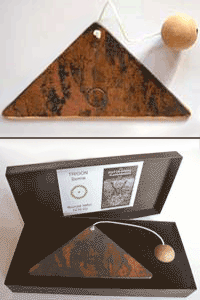 Triangle plates (
also called
trigons)
are a new development from the silversmith and sound artist
Martin Bläse
, ideal for musicians and everyone who works and plays with sounds. As tonal and rhythmic instruments triangle plates belong to the "idiophonic" group of instruments (sounds are created by the intrument vibrating as a whole
The triangle plates are made from bronze. In his studio
KULT-UR-SPRUNG
Martin Bläse combines the advantages of the metal industry - creating especially pure metals - with the tools of his handicraft. The cold metal is hammered, annealed and subsequently allowed to cool slowly. This "tempering" optimizes the sound quality.
The trigons coincide precisely with the planetary tone frequencies. Their precision of
±
 0.5 % lies within the normal deviation caused by temperature differences.
In contrast to tuning forks, the triangle plates create a loud
spacial sound
. A wooden sphere serves as both a handle and striking tool.
The triangle plates are available in three variations:
natural bronze,
polished bronze
and
nickel silver
(an alloy comprising copper, nickel and zinc, also known as alpaca silver). The difference in sound between the materials is negligible.
They are delivered in a noble black
cardboard box
or as a
set of 13 notes in a wooden box
. Accessories available include a table stand with a wooden or Baltic sea stone base, wall mount and clapper.
Striking the middle of the triangle creates a uniform, lingering sound, whereas striking the triangle near the edge makes it rotate creating a lingering, undulating sound.