easy keys
Piano and keyboard playing made easy
with colour stickers for the keyboard
(in German)
You want to play piano or keyboard, but the old notation is much too complicated?
With easy keys beginners are immediately successful, because the music is shown here as a colored diagram.
Without clefs, flags and all the cryptic characters, the term notes has a new meaning in the colormusic system. The music is now depicted.
The colour notes are as simple as that: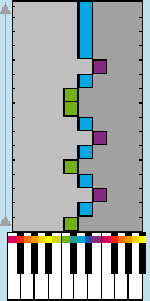 Reading direction:
from bottom to top!
Tone lengths:
Tone duration = vertical length.
Pitches as with the keyboard:
< low notes left <
> high tones on the right >
Pitches:
twelve tones = twelve colours
Keys with colour marks:
The keys are marked in colors
easy keys conveys the art of keyboard playing step by step. The first piece is for one hand, the next for the other. Then come pieces in which first both hands play alternately and then simultaneously. One piece is called "When the thumb wanders". This also makes the scale fingerings at the end of the booklet easy to play.
By the way, on the left side of the booklet the pieces of music are also written in the old notes, because these are easier to understand with the colour notes.
The colour notes for a casual introduction to keyboard playing naturally remain the essential use of easy keys.
easy keys is the basis for the other colour score books Kinderlieder (Children's Songs) and Grosse Meister (Great Masters). Information on the colormusic system and free PDFs at www.colormusic.de